Happy Earth Day 2022
The Future Is Here
Combining cutting-edge technology with solar-powered solutions

Lumos Solar was founded in 2006 with the intention of building a business whose products and services would make a positive and lasting contribution to the world. Solar technology is proven and reliable and here today to make the transition to clean, renewable energy. Lumos is committed to facilitating the widespread adoption of solar energy and believe it is an imperative for the future health of our children and our planet.
As we look to find solutions to our climate crises and turn more to sustainable energy sources, Lumos is dedicated to designing innovative solar products that are functional and accessible to everyone with clean, renewable energy. The future is here ~
SolarZone – Solar Powered Charging Workstation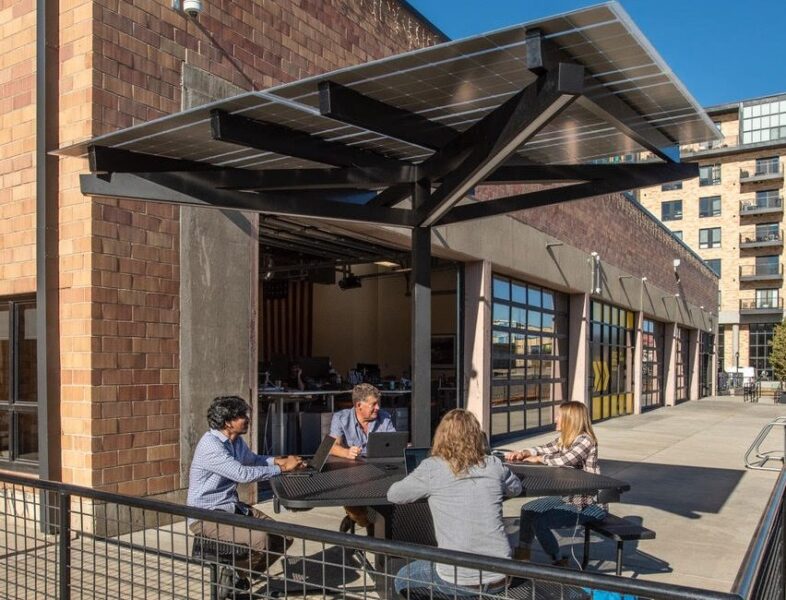 The
SolarZone,
our solar-powered workstation which combines shaded seating with solar charging, is a perfect solution for wherever shaded seating and charging is needed – campuses, parking lots, picnic areas, sports fields, pools, food trucks, anywhere people are spending time and need a charge!
Featuring our
LSX Module System
, the
Solar
Zone provides unlimited charging capacity when the sun is shining and has enough battery storage to keep the lights on and charging for over 8 hours after the sun goes down. Each
Solar
Zone is ADA Compliant, comes in unlimited colors and includes (4) wireless chargers and (4) outlets for mobile device and laptop charging. The integrated lighting makes the
Solar
Zone a great place to hang out into the evening. The lights can be programmed to turn on and off automatically based on whatever schedule you like with integrated Bluetooth data monitoring.
Solar Carports
Combining cutting-edge technology with solar-powered electric vehicle charging stations with Electrify America!

Lumos Solar Powered EV Charging Stations at the National Corvette Museum in Bowling Green, KY, courtesy of Electrify America! Combining cutting-edge technology with solar-powered electric vehicle charging stations is the way forward.
Lumos Solar has completed thousands of projects for businesses, institutions, municipalities, schools and residences across North America. Check out some of our amazing Projects
---
CONNECT WITH LUMOS SOLAR!